House of Electronics is based in the heart of the Niagara region and operates Canada wide.
We have customers that currently deal with us outside of Southern Ontario and we will happily discuss your needs as you are not "local" to us.
After 25 years in the business of UPS sales and service, House of Electronics has grown to become one of the leaders in this field, providing superior service to its customers at a price which will keep everybody satisfied.
We are in a position where our team of specialist technicians can give you full service "out of the box"; House of Electronics will assess your needs and configure a package to you and your budget.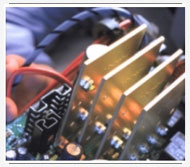 We work very closely with our two main UPS manufacturers and are constantly negotiating great deals with them and can pass these savings on to our customers.
House of Electronics is in a very elite group in the UPS industry in which "We service what we sell". This means you will only have to call one number and speak to one person, who will give you a full package from the purchase enquiry through to the installation and associated after sales preventative maintenance servicing.