DC Systems
In 25 years of UPS service we have learned a lot about batteries. Are some batteries superior to others? Absolutely, In fact a good portion of our service calls are due to premature battery failure. This in invariably the result of the customer trying to "save money", by buying a poor quality battery. However in the long run the customer will save money, by spending a little extra on a quality product. This can reduce service calls, and the frequency of battery replacement. Over the years we have tried a number of products and have settled on two that we think are superior. Our distributor is located in Toronto, and can respond to our needs immediately.
Our smaller UPS applications use sealed valve regulated gelled electrolyte technology. This sort of lead-acid battery will provide long life (with appropriate maintenance) with very little loss of electrolyte, because the oxygen and hydrogen gasses recombine to maintain the necessary amounts of moisture. They are rated non-spill by ICAO (International Commercial Airline Organization), IATA (International Airline Transport Association) and DOT (Department of Transportation) definitions.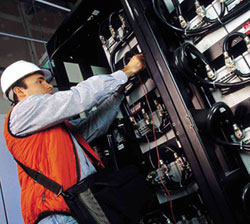 Our stationary battery line is sold for larger applications such as electric energy utilities, solar energy, telecommunications, and larger UPS applications. There large wet cell batteries have and operation life of up to 20 years, and can provide up to 3000 Ah. They come with flat plate and tubular plate according to your needs.
We can also provide customized battery racks and cabinets if required.
Consider us as your partner in the delivery, installation, commissioning and subsequent permanent service of you stationary battery systems.