Got a Power Problem? Could Be Harmonics!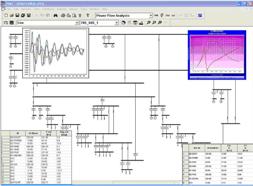 The Public Power distribution system was designed early in the last century when harmonics distribution was not a problem. The Harmonic Distribution created by computers, rectifiers and other wave form distorting electrical equipment is destroying power supplies, filters and powerfactor correcting capacitor banks. Spikes (very large, short duration overvoltages) are being created by lightening yes, but also by large switching mechanisims and by short duration power failures. Spikes create false data on communication lines, damage hard drives and CNC equipment. In short Spikes kill sensitive electronic equipment.
We are equiped to measure load conditions at each distribution point (or disconnect) in your, or your client's electrical system. Our computerized, digital, true RMS test equipment will measure more accurately:
Voltage (up to 600 Vac Maximum)
Current (up to 200 Amps Maximum)
Watts (True Power)
VAR (True + Reactive Power)
Power Factor (Leading or Lagging)
Harmonic Voltage & Currents (to the 24th harmonic)
Total Harmonic Distortion (as a percentage of the fundamental)
Got a Power Problem?
We can offer the best solution from two of the leading manufacturers of Harmonic Filtering Systems.
We offer the Best, Low Cost TVSS (Transient Voltage Surge Supressors) in the business.See our Home Protection Package
And...
We can arrange a product demonstration to prove these claims.
For a confidential quote, fax (905) 892-6026 or email a line drawing of your distribution system to us, or you can request a quote for a site survey if you don't have a line drawing.