UPS System Training
Gord House, our senior trainer, spent 8 ½ years teaching Electrical / Electronics courses at Niagara College in Welland, Ontario. He has taught (part time) both day and night school courses, so he is familiar with the needs of adults in a learning environment.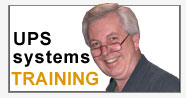 In addition to an education in electronics, Gord carries a 309D (electrician) inter-provincial certificate with the electronic control endorsement as well as 21 years experience troubleshooting and repairing UPS systems.

SELECTED STUDENT COMMENTS
"… I wish we had more time because it (the course) was packed with great information."

"… This is one course I didn't sleep through."

"The information was well presented and the answers (to questions) were clear - easy to understand and remember."

"Being an electrician himself, Gord speaks our language."

"…The most practical, hands on, programs I've had in 20 years…"